Activities to Keep Little Ones Occupied During the Homeschool Day
Affiliate links have been included for your convenience. Please see our full disclosure if you'd like more information
Activities to Keep Little Ones Occupied During the Homeschool Day
How do I keep my little ones entertained while I homeschool the older children? This is one of the questions I hear most from homeschooling families with a mix of younger and older children.
I've had to keep little ones busy during our homeschool days for many years now and am happy to share what we've done to keep those little ones busy during the homeschool days.
I also wanted to add that I've teamed up with a few other amazing bloggers to bring you a really exciting giveaway!! All the details for that are towards the bottom of the post, so after you've read through the article, don't forget to enter the giveaway at the bottom. The giveaway opens July 15, 2019.
Water Wow Books
Easily one of our favorite activities – no set-up required (besides filling the pen with water) and absolutely no mess. They come in a variety of designs so you can have a few on hand and rotate them about. They're also educational, which is an added benefit. See all the fun Water Wow books available here.

Playdough
If your little ones are past the put-everything-in-their-mouth stage, playdough is something that will keep them busy for hours. We started playing with playdough when the children were less than one but only with very close supervision because they still enjoyed tasting it. Add in some figurines, popsicle sticks, or cookie cutters, and you have a very fun activity for the little ones. Get our SUPER easy, no-cook playdough you can make in a KitchenAid stand mixer here.
You can also print out some fun printables to use with playdough, such as our adventures outside bundle.
Stickers and Paper
Another super easy activity to set up but will keep those little ones busy while they quietly work on their fine motor skills. You can purchase themed sticker books or simply buy a few sheets of cute stickers (or colorful hole reinforcements) and invite your child to place the stickers on their sheet of paper. If they have a hard time peeling the stickers off, peel the surrounding sticky piece off to make it easier for your child to remove each sticker.
Books
We love books and they're a great way to entertain the little ones while you homeschool the older ones. We've included some of our favorite books (as well as some we'd like to try) here.
Duplo Blocks
Another favorite in our home! There are so many fun sets to choose from and will certainly give your child hours of creative play. One of our favorite sets has been the ice cream set but this one looks like it would be a fun one to add too!
Wood Blocks
We love blocks and all the creative possibilities they hold. From the traditional wood alphabet block set to rainbow blocks (the pictures online don't do these gems justice – they look absolutely AMAZING on a sunny windowsill), they have gotten a lot of play from our children and are the perfect way to keep those little ones busy during the homeschool day. This is the same set we purchased nearly a decade ago and they are wonderful – made in the USA, absolutely gorgeous, and quality through and through.
Glue
If your little one is a little older and you're feeling brave – this open-ended gluing activity is sure to be a hit! Our tip is to put it all on a tray for better containment and to keep the mess down. See how we put our gluing invitation to play together here. Or, download one of our many free printables and set the sheets out with some gems or buttons for your child to create with.
Stacking Cups or Laundry Baskets.
This might sound silly but Miss 1 absolutely loves stacking our small laundry baskets and I'm guessing if I bought a set of inexpensive plastic cups, she would happily stack and unstack those as well.
Food
Snacktime is a great time to work on school while the little ones are in their seats munching on carrot sticks or apple slices. Prep the snacks the night before so they're ready when you need them. 🙂 If you have older children, they might even be able to help you slice cucumbers – this is the tool we like to use – it makes the slices that much more fun to eat!
Puzzles
We love incorporating puzzles into our homeschool days – from peg puzzles to pattern puzzles and see and spell puzzles – these are some of our favorite things!
What would you add to the list? Let us know in the comment section below?
Okay, now on to that giveaway I promised to tell you more about!
Don't Miss Out! Get Your Freebies!
Subscribe today to be notified of member-only updates + gain instant access to our resource library of FREE printables.
A new homeschool year is right around the corner!
Many homeschool moms are busy preparing and finalizing curriculum choices for the upcoming school year. And some homeschoolers are trucking on through the summer months as one school year flows into the next. Whatever camp you are in, you're bound to need new homeschool curriculum, and winning a gift card to a major online homeschool retailer would surely help you check some things off of your curriculum wish list. I'm teaming up with some other great homeschool bloggers to bring you a
HUGE gift card giveaway to Rainbow Resource Center
. We will be blessing
TWO
homeschool families with a $250 for you to use on curriculum, books, games, puzzles, or whatever educational supplies you might need! We know homeschooling can put a financial strain on families – whether it's from living on one-income or buying curriculum for multiple children – the financial aspect of it can be stressful. Our hope is that we can bless a couple of homeschool families (although we wish we could bless many more) so they can buy the curriculum and supplies they need.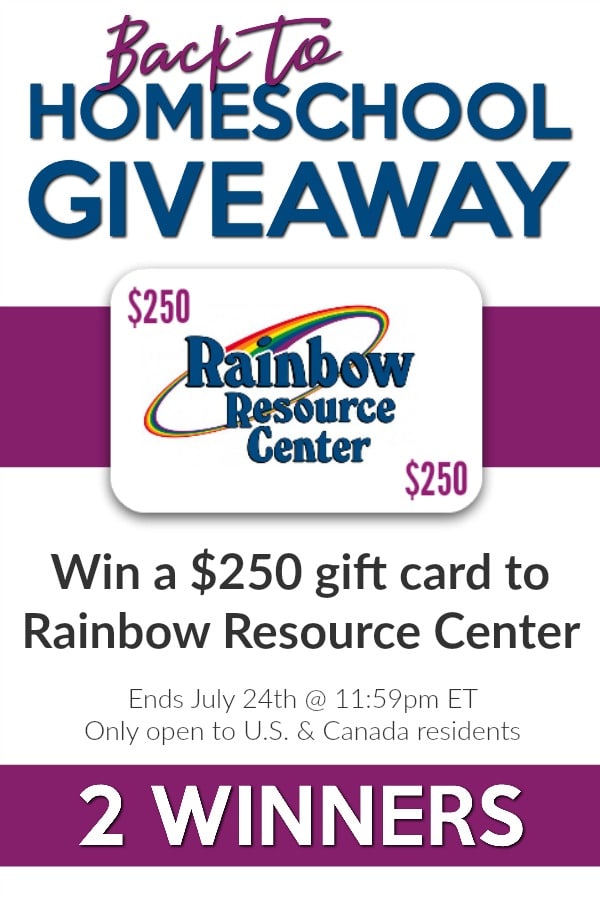 To enter for your chance to win, simply use the Rafflecopter form below to enter. Now I know that is quite a few entries for you, but each of these bloggers has generously chipped in their own money to make this giveaway possible, so I hope you will take the time to do all of the entries. And hey, the more entries you do, the better your odds are of winning!
Giveaway ends July 24, 2019 at 11:59pm ET. Must be at least 18 years of age. Must be a resident of U.S. or Canada to enter. Selected winners will have 48 hours to respond to email notification to claim their prizes or another winner will be drawn. By entering this giveaway, you agree to be added to the email lists of the participating bloggers (see the Terms & Conditions on the Rafflecopter form for the complete list).
a Rafflecopter giveaway