Get 3 Wool Dryer Balls for Only $3
This post contains affiliate links and we may be compensated if you make a purchase through our link.
Check out this deal!
For a limited time, try the MightyFix for only $3 with promo code DRYERBALL3 and get 3 dryer balls as your first month
Originally, $16.99, you can receive a three pack of wool dryer balls for only $3 when you try the Mighty Fix.
Dryer Ball Product Details
This set of 3 dryer balls are made of 100% premium New Zealand wool. Adding wool dryer balls to your dryer will help soften your clothes (without the use of synthetic chemicals found in dryer sheets), decrease drying time significantly (saving money on utility bills), and save the landfill from disposable dryer sheets.  By circulating the air in your dryer more efficiently they can also help reduce wrinkles and static
To use: Toss all 3 balls in at the beginning of the cycle. They last for over 1,000 loads and will save you both time and money.
Handmade in Nepal
Comes packaged in reusable muslin bag.
TIP: For a light natural scent, add a few drops of lavender, lemon or orange pure undiluted essential oils to the balls and toss in! Letting the essential oils soak into the balls longer increases the scent.
TIP: If you have static, reduce your drying time since over-drying increases static electricity. Another idea is to fasten 3 large safety pins to some old socks and keep those in the dryer as well (the metal helps break up static bonds).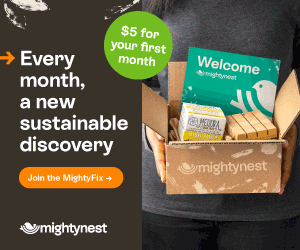 What is The Mighty Fix?
Sign up for the MightyFix and Mighty Nest will send you a thoughtful, handpicked product each month-always a surprise! Expect green goods for yourself and your home that are high quality, useful and fun.
You'll enjoy up to 35% off hundreds of favorite products + it all ships free in your monthly box.
[convertkit form=5041417]